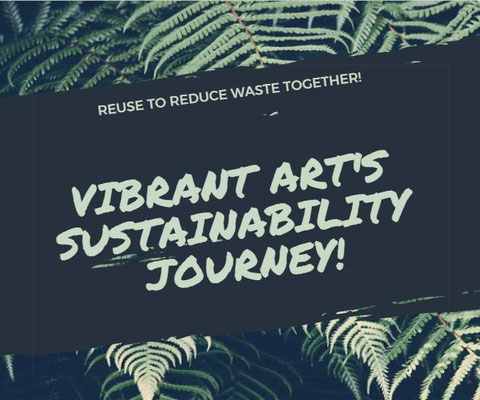 Single use plastic such as grocery bags, straws, disposable cups and bottles make the headlines as major culprits of our earth's plastic pollution all the time. But with increased percentage of our shopping done online, BUBBLE WRAP, SHIPPING AIR CUSHIONS & PLASTIC MAILER BAGS are increasingly adding to this list as we mindlessly unwrap our purchases and toss them away.
Here are some tips to do your part to reduce by reusing these items: 
1. Reuse mailer bags as a trash bags for wet waste 
2. Give bubble wraps or shipping air cushions to others who can reuse them for their shipments. 
3. Turn over a used mailer bag and use the other side when sending out your own package. Might not look fancy, but hey, you are doing your part to help our environment! 🤩🤩
Over time, these little steps add up by increasing the mileage of these items hence reducing the demand for producing more plastic waste.
Vibrant Art sends out our packages in plastic mailer bags so do reuse these after you unpack your order! Our bubble wraps are mostly from companies and friends who pass them to us after knowing our direction to promote less single plastic usage. The bubble wraps are clean and in great condition PLUS the feel good effect is sooooo AWESOME! 😍
In terms of business practically, it helps us reduce costs which we then pass down to our clients in terms of prices and regular storewide discounts.
It's never too late to start to repurpose your usually single used plastic items. We'd love to hear your ideas on how else to reuse these items too!