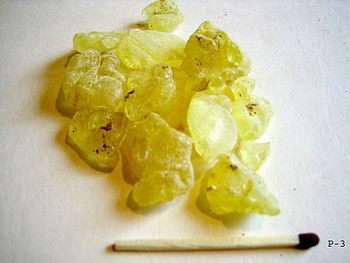 Mastic is a resin obtained from the mastic tree (Pistacia lentiscus). In pharmacies and nature shops, it is called "Arabic gum" (not to be confused with gum arabic) and "Yemen gum". In Greece, it is known as the "tears of Chios," being traditionally produced on that Greek island, and, like other natural resins, is produced in "tears" or droplets.
Originally a sap, mastic is sun-dried into pieces of brittle, translucent resin.
The word mastic is derived from the Greek verb, "to gnash the teeth", which is the source of the English word masticate. The word mastic is a synonym for gum in many languages.
Mastic Varnish has a semi-gloss finish that naturally increases colour luminosity. It is an extremely durable varnish and is often used in conservation and restoration work. Being one of the strongest binding resins, mastic is quite permanent. The addition of natural mastic resin to turpentine as a varnish dates back to at least 700 B.C. At the time of the Old Masters, it became common as a finishing varnish as well as a major ingredient in oil painting mediums. It continues to protect master paintings in museums around the world. 


How to use Mastic Varnish   
Preparation:
Make sure your painting is dry to the touch, and no areas are still wet as the paint might run. Paintings can be varnished within 2-3 weeks after completing the painting, but if time permits, it is recommended you wait 6 months.
Application:
Use a soft, natural bristle brush (Flat, preferably 1.5 or 2 inches).
Dip the brush into the jar of varnish, and press against the rim to remove excess varnish. Brush the varnish onto the painting, spreading the varnish as you go to create a thin layer. Do not scrub very hard, just enough to spread the varnish around. The varnish will start to set up and get tacky quickly, so don't go over areas many times. When necessary, dip brush into jar again and continue brushing onto painting until fully covered with an even thin layer.
Paintings usually require anywhere between 1-3 coats. Make sure varnish is again dry to the touch and not tacky before applying another coat. Leaving a painting in the sun will usually dry the varnish in 1 day. Depending on climate, you may have to wait a few days to apply another coat.