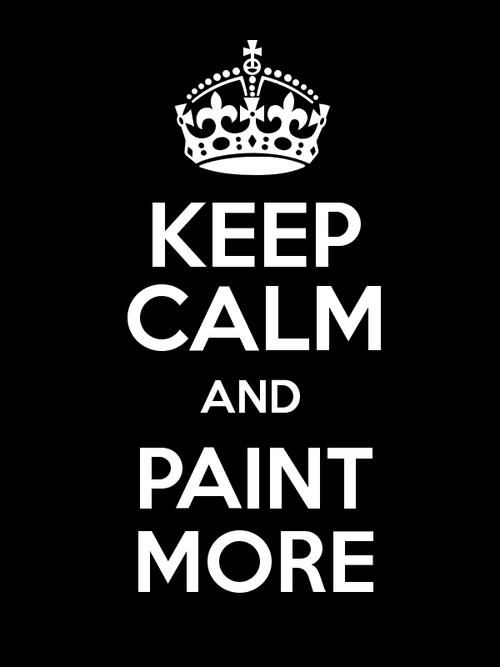 New painters often make the same mistakes over and over when they are starting out, but often not knowing that they are even making them. While mistakes are part and parcel of the learning journey, and should be expected when starting out; correcting those mistakes can become the first major milestones in your art career.
By a rare stroke of luck (or genius) a mistake can transform a finished work into a masterpiece, but for beginners, mistakes are simply tumbles that become stepping stones for artists to improve. Here are some of the most common mistakes new painters will make:
1. Mixing paint on your canvas.
Mixing paint should be done on your palette. Trying to mix and  experiment with color on your canvas, leads to messier brush strokes and often the wrong shade of colour that will be hard to cover up as you paint. Use a large palette to mix on, or simply a flat piece of white acrylic sheet solves the problem.
2. Do not poke at the canvas with your brush.
Unless you are painting in Pointillism, poking your brush to the canvas will split your brush and push your colours in odd, uneven blobs. Using short strokes and dabs is more efficient and will yield a more uniformed colour.
3. White out!
While mixing with white is fine to create lighter or pastel colors, adding too much white directly can blanket out a canvas and make your paintings look muddy and cold. Unless of course, you are painting a winter scene.
4. Don't be stingy with paint.
Do not be afraid to use lots of paint on your canvas. Many new artists are afraid to use too much paint at several points during the painting process, both on the palette and on the canvas. You can always buy more paint so do not be afraid to use too much. Better too much than to leave thin areas on your canvas and have the paint dry out too quickly. In regards to your brush, use lots of paint and big strokes on your painting. Having too little paint on your brush can make your paint look dry and scratchy when it hits your canvas.
5. Using cheap hobby paint and pastels.
Do yourself a favor and buy some better paint than from a cheap hobby store. Hobby paints will perform poorly on its own without any mistakes on your part. Vibrant Art-Online Art Supplies proudly carries the well-made French paints from Sennelier, at affordable prices. High quality artist paints are better and offer many more colors than hobby paints which are made with fewer pigments and more filler- so buying cheaper hobby paints equates to spending your hard earned money on more fillers than pigments. Instead try a paints like Sennelier artist range.. They all have higher pigment counts and better lightfast ratings and will paint smoother. 
It goes the same for using cheap pastels, whether oil pastels or dry pastels. Use artist range pastels which have high percentage of pigment than cheap hobby or kids range of pastels. You get more saturated colours with less strokes. I always say- "A little goes a long way with Sennelier paints and pastels".
6. Do not be afraid to make any mistakes.
You will make them, so don't get all stressed about them. Making mistakes is part of the learning process. If you are not making mistakes, you're not working at your craft and improving. Just be sure to correct mistakes as they happen and learn from them, they will make you a far stronger and confident artist. 
7.Use high quality paint brushes
Using cheap hobby brushes will not only frustrate an untrained artist, it serves to waste precious learning time and makes the whole learning process less than pleasant. Invest in good quality brushes, whether natural hair or high quality synthetic hair brushes, as they perform better, paint the stroke you intended more efficiently and they last a lot longer - of course this goes hand in hand with taking care to wash them properly. Vibrant Art-Online Art Supplies carries a wide range of French made, Raphael and Isabey brushes; and German made, Da Vinci brushes, together with the brush soaps to keep your investment in tip top shape and prolong the lifespan of your tools.