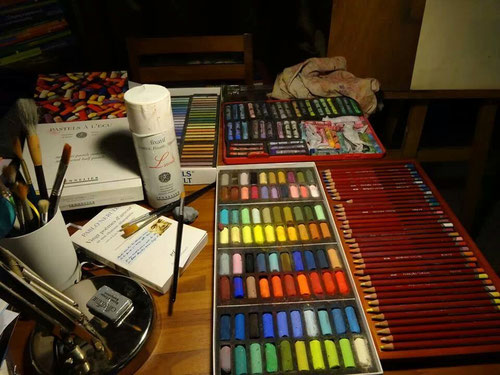 Many a times, we think about painting or chide ourselves for not painting enough. We may find reading up about painting, talking about it with friends  or attending an art exhibition is easier than actually settling down to paint. Heck, even clearing out a messy closet or putting up that set of DIY shelves is easier! 
Don't get me wrong, there's always a good reason to procrastinate. Like many artists who are not yet, or maybe never want to be, making a full time living with their art, hold a full time day job. You most likely would be tired at the end of the work day, and by the time you set up your work area so that you can continue where you left off 2 weeks ago, it's time to put it all away again and sleep.
So how do you make it more conducive and appealing to paint regularly, even daily? Do whatever you can to make painting as effortless as possible, because the more you do it, the easier it gets, and before you know it, the habit forms.
1)      While it's unrealistic to expect to hit the road running and paint every day, at the beginning, aim for twice a week. After 2 weeks, push that to 3 times, say on Tuesday, Thursday and Sunday.
2)     Most importantly, set aside a designated space that you don't have to dismantle and re-set up each time you work. When the area is set up, all you need to do is go there and start mixing your colours to get down to work!
3)      Schedule in the time - it doesn't have to be a full 4 hour session, because that's too daunting and you may even avoid starting, let alone doing it regularly. 1 hour, focused, is better than four, puttering and wasting precious time.
4)      Allow yourself to make 'mistakes' and experiment, each 'mistake' is a learning experience and you grow to understand your style over time. When you free yourself from the obligation to produce a saleable work every time, you will enjoy each painting session more. This makes you look forward to the next session.
5)      Recognize that you can't do everything, and in order to make the time for painting, something else may have to go. It could be an exercise class, your favourite drama serial ( you can always watch it on your smart phone the next day whilst commuting to work J )
Similarly, taking art lessons and then not painting and practicing on your own could end up a waste of your time and money. If you do not practice what you have newly learnt, all that effort may go down the drain. Painting regularly and making it a habit will take you further faster in your art career and skills development. You will also be pleasantly surprised to learn more about yourself in the process.
Posted by The Vibrant Art Team