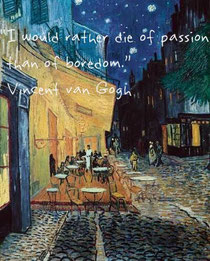 Why begin the New Year with resolutions that seem to be negative proposals about doing less of the things you enjoy?

Let me suggest some positive possibilities and since this is an art oriented blog my suggestions sway in that direction.
This year I resolve to:
Spend more time for creativity. Make creative time part of your daily activity, even if it's for 30 mins or 1 hour. Creative time is not optional, it gets the same priority as bathing-  simply do it every day and eventually it becomes a must-have time in your life.
Visit the museum every month.  Art makes us all better people. Make it a point to visit the museums once a month. Whether it's attending a private art event even if it's just for networking or simply soaking in the inspirations at the National Museum, make it a point to nourish your soul with the beauty of ART.  
Visit a museum even when you are overseas on a holiday, it will show you how artists of different backgrounds feel and think and become inspired.
This can be combined with your resolution to spend more time with the popular 'spend more time with family and friends" resolution. Go see art together. 
Begin to get creative by exploring painting, sketching, even doing crafts. It will make you a more rounded person as you develop and exercise your right brain functions.
Vibrant Art carries a full range of art materials and paints to satisfy from the creative child in us, to the most experienced, confident artist.
Our facebook has regular postings which I hope will inspire the artist in you.
Wishing all our friends, nothing less than the best for the year!